Fall Safety On a 2nd Story Mezzanine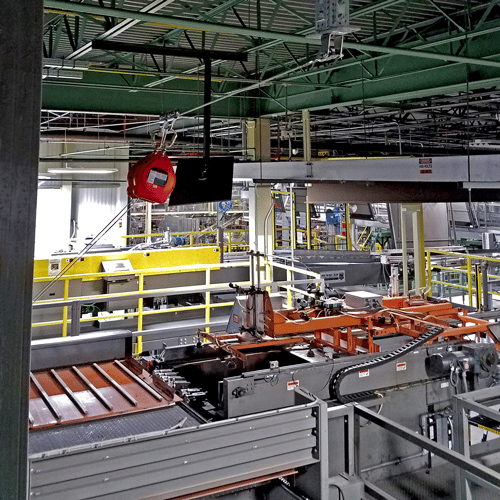 A large brewing company in Upstate New York recently contacted us because they needed a horizontal lifeline system installed in their warehouse, above one of their processing machines.
The brewery needed to periodically perform maintenance on top of this processing machine, which was located on a 2nd floor mezzanine. A suitable fall protection system was needed to keep the maintenance workers safe as they performed their work 27 feet above the floor. The job was classified as a fast track project and needed to be completed within a very short span of time.
With the project details laid out and a completion date set, our team of fall safety, prevention and protection experts began assessing the situation, taking measurements, and designing horizontal lifeline fall protection that accomplished every item that the brewery needed.
With a joist height 27 feet off the floor, the fall protection system would require custom fabrication. Furthermore, because the machine was routinely accessed from above, for maintenance, the system had to be able to withstand frequent usage.
Our Custom Horizontal Lifeline System Provided On Time & On Budget
Our design team installed a custom fabricated system that used three 3M™ DBI-SALA® 8 mm Permanent Horizontal Lifeline Systems (Uni 8™), with overhead travelers (trolleys) containing ball bearings, for smooth operation. This allowed maintenance workers to safely latch on to the safety guide wire and travel out over the process machine to perform their work.
Our team was even able to complete installation of the project a few days ahead of the completion schedule set forth by the brewery. The completed fall protection system was also installed within the given budget constraints, which created a win/win situation for everyone involved.