Installing a Custom Maintenance Platform for an Ivy League College
When an Ivy League College, in New Haven, CT, contacted us about designing and installing a custom fall protection system made out of platform grating, on their roof, we jumped at the opportunity. The school was in search of a safe way to provide workers with access to maintain equipment on their rooftop.
We designed and installed a custom side access maintenance platform for them. We constructed the platform out of recycled rubber bases, Sikla Framo 80, heavy-duty structural steel framing, and platform grating. OSHA platform requirements dictated the need for a railing and a custom Unistrut stair and hand railing system were also added to complete the safety platform.
The platform measured fifty-six feet long, four feet wide and five feet above the rooftop surface. Railings were located on both the long and short sides of the platform, and six platform grating stair treads were used on the short side for easy platform access.
Our custom design fit perfectly alongside their rooftop equipment and provided easy access to maintain it. Maintenance workers could now access the equipment when needed, without worrying about their safety.
More About Platform Grating Access Platforms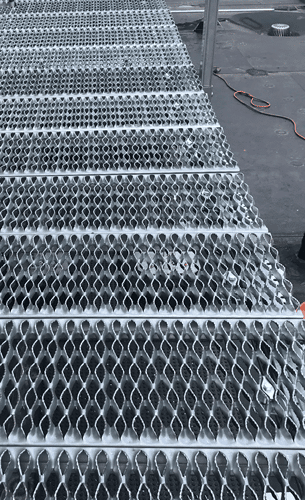 When looking for a cost effect solution that allows workers to safely access equipment, look no further than our modular access platform. Our modular base designs can be quickly and effectively customized and adapted to fit your equipment and facility, making a custom fall protection system the perfect option to keep maintenance workers safe.
Our high strength steel framing provides the necessary support needed to allow workers to easily access equipment and avoid obstacles on rooftops or inside manufacturing facilities. Heavy-duty recycled rubber bases allow for an easy, non-penetrating installation that are perfect for all types of roofs.
The modular design of our platforms allows us to easily customize them to your job and get them installed for you quickly. Plank grating platforms are also easy to assemble with a simple hand tools, right on the job-site, which eliminates the need for cutting, welding or rigging of any kind.
Who is Fall Protected Solutions?
FPS is a division of Strut Systems Installation LLC (an Eberl Company). We work with you to provide custom fall protection systems that keep your employees and maintenance workers safe.
We specialize in roof walkways, catwalk construction, access platforms and fall protection harness systems. We also offer Fall Protection Inspections, making sure your safety systems are OSHA compliant.